In an area of historic disadvantage brimming with potential, AMP's music academy opens up access to high-quality music studies, formal qualifications & tertiary/career pathways through a rigorous, industry-relevant and uniquely South African curriculum.
What skills and resources were you able to draw from the community for this project?
Volunteers: AMP makes use of volunteers from the immediate community (e.g. family and friends of its beneficiaries) and broader Grahamstown community, to fulfil human resource needs such as music teaching, administrative support, catering and supervision of children on camps and outings. Community services and institutions: AMP has partnered with several public and private social service and education institutions to enrich its programme offerings and support its beneficiaries in areas where AMP is not equipped to support. These include, for example, the Assumption Development Centre, GADRA Matric School, local Department of Social Development, Rhodes University Community Engagement. Local schools share resources and networks as they can, to mutual benefit. Spaces: AMP partnered with 5 other local NPOs to form the Joza Youth Hub, in partnership with Makana Municipality, in order to secure a physical space for offices and teaching, in a location central to the geographic areas that AMP serves. AMP borrows an additional classroom from a neighbouring school, and makes use of community halls for performances and events. Community platforms: A great number of community festivals and events throughout the year provide AMP with performance platforms and visibility. National Arts Festival and Creative City: Grahamstown is home to South Africa's National Arts Festival, which takes place annually but is present year-round through the Creative City initiative. This is a remarkable asset, through which AMP's learners gain performance opportunities, exposure to world-class productions, engagement with visiting artists, as well as work experience opportunities. The National Arts Festival recognises the professional value of AMP's team, which they contract to design, direct and produce several of their major annual events – an opportunity for AMP to be active and excellent at what it does, and in turn be an asset to the community. Community expertise: Located in a small community, AMP is part of a close network of NPOs through which it has been able to draw on expertise of experienced practitioners. AMP now also shares its own expertise with new NPOs that are starting out. 'Paying it forward' is important in this community because it ensures the strength of NPO networks and sustainability.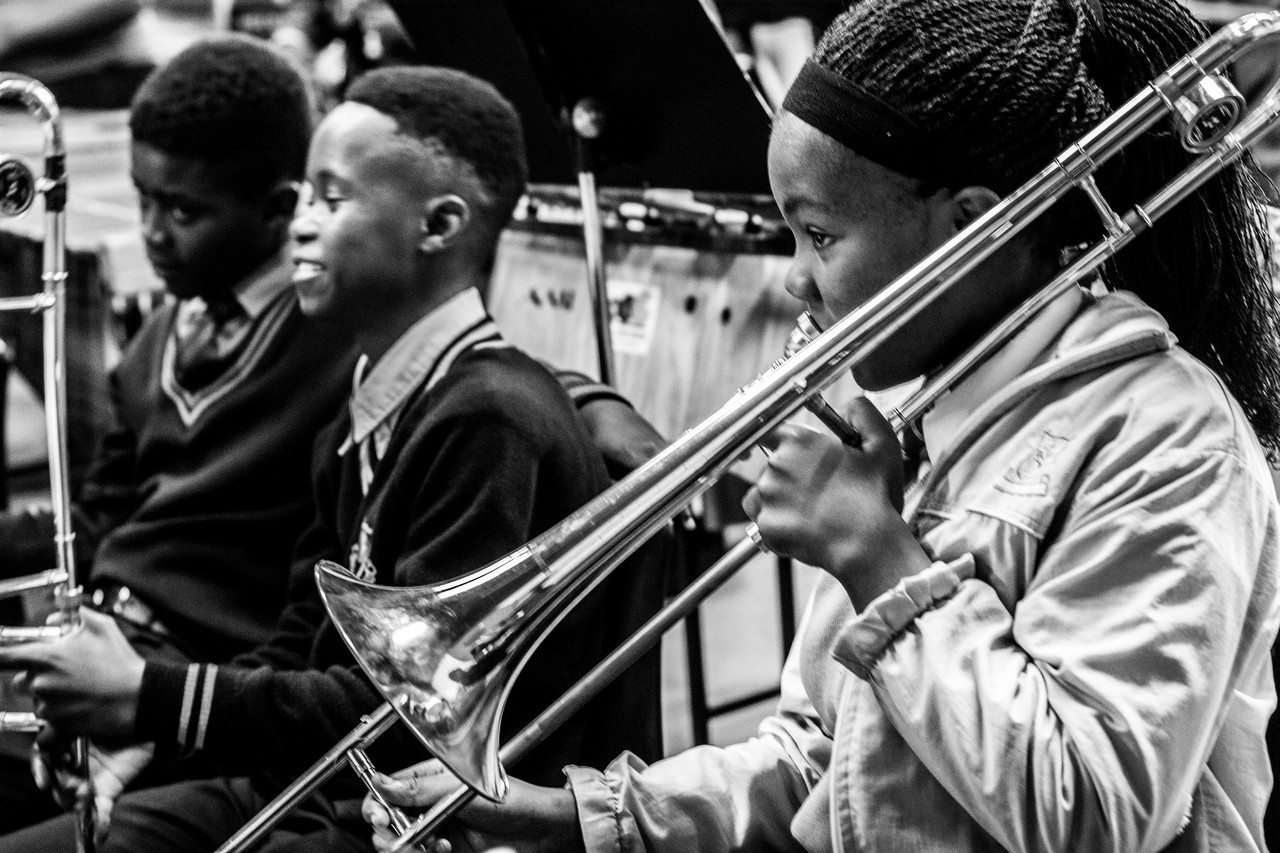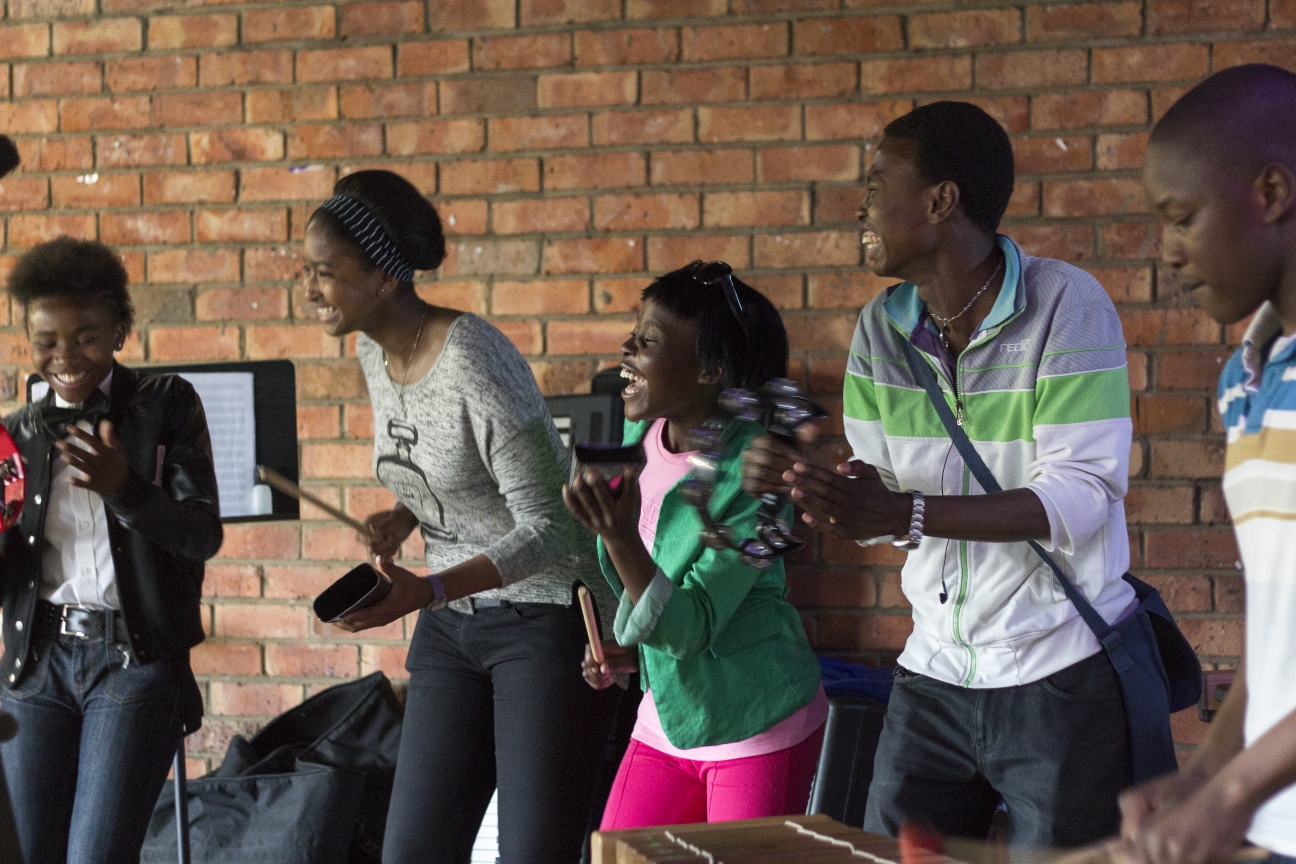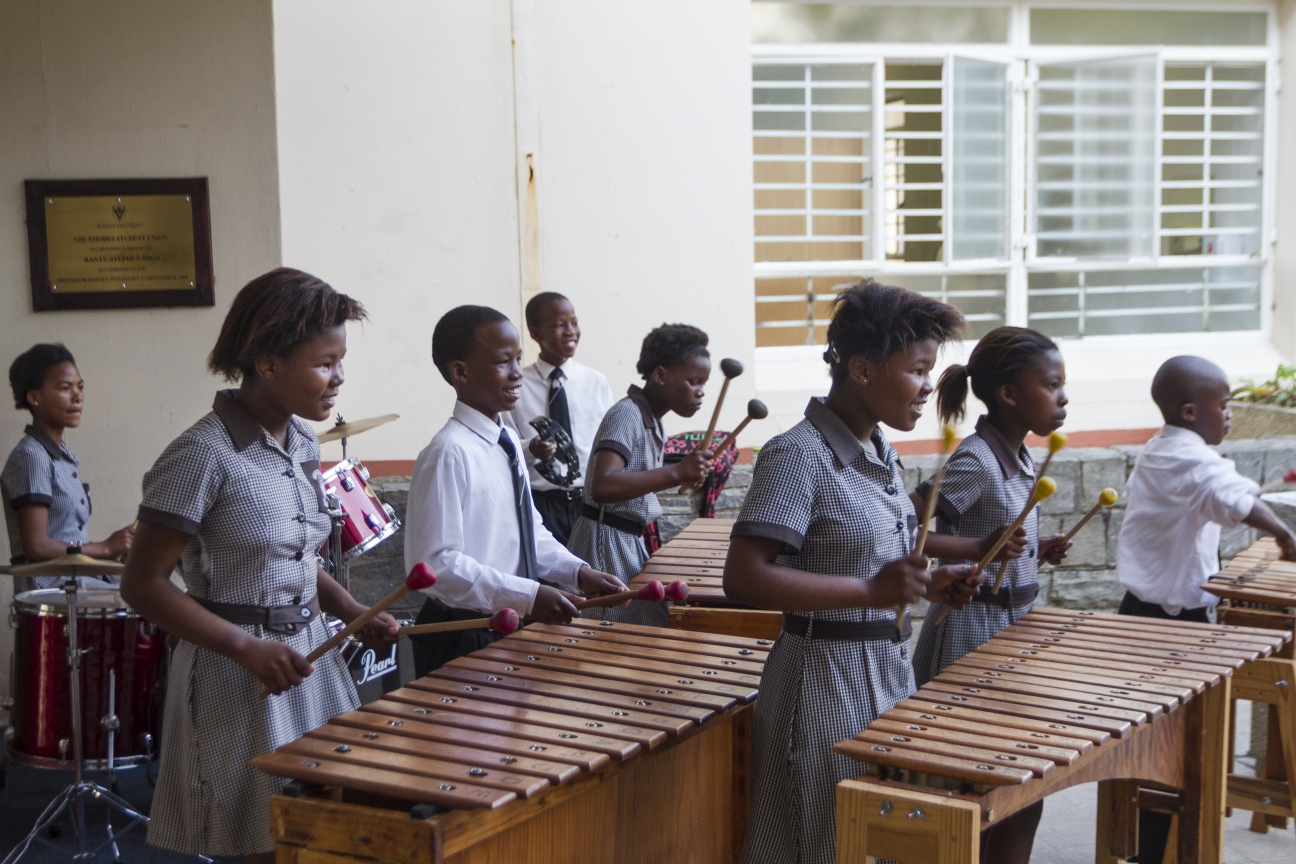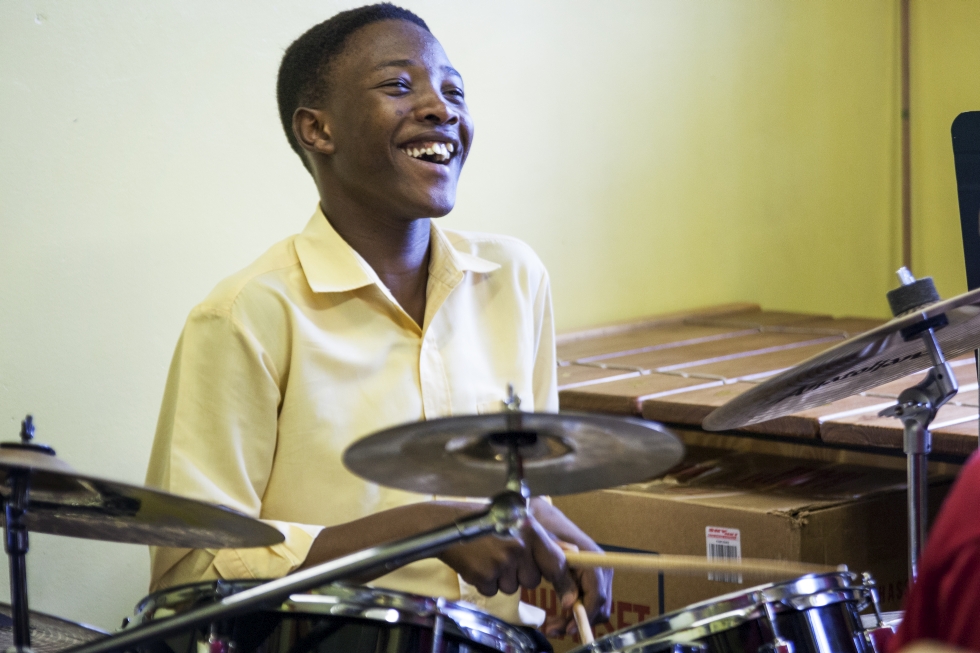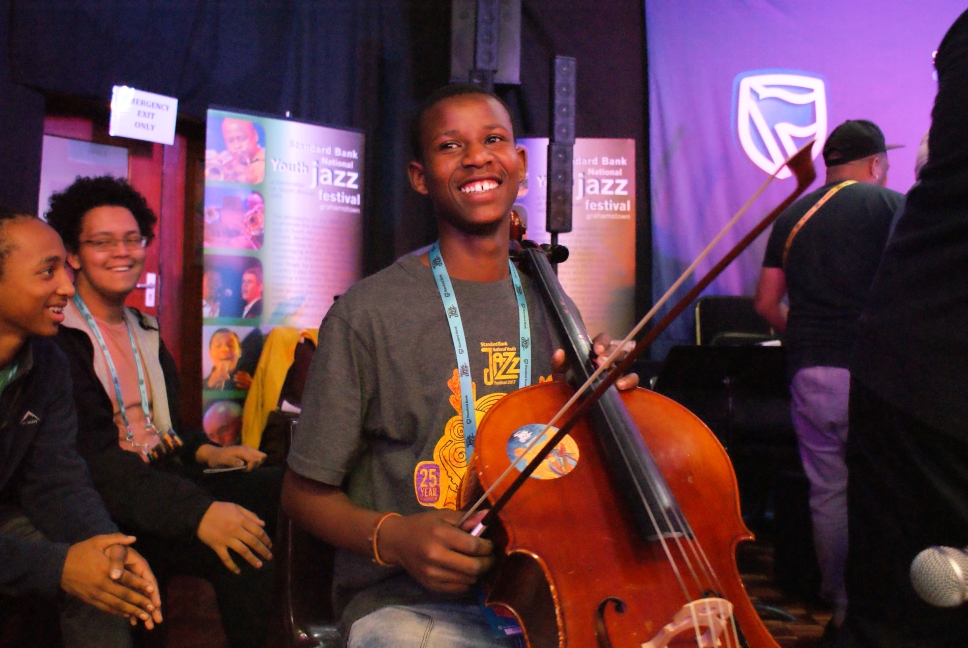 The challenges
While arts training and activities play such an important developmental role in academic, social and personal life, a much under-recognised problem in South Africa's schooling system is the absence of arts education in the majority of our schools. This is true of Grahamstown's historically disadvantaged schools, most of which do not offer music, or any arts subjects, at FET (Grade 10-12) level, and do not have resources to offer good quality creative arts teaching in the lower grades. In such schools, budding artists and creatives are often without stimulation, nurture or mentorship – this narrows the life paths, career options and powers of expression of underprivileged learners, further deepening their disadvantage.
Addressing the challenges
Rather than duplicating efforts separately in each individual school, the success of AMP's programme lies in having a pool of human expertise and physical resources that serves multiple schools, in order to create a high quality, diverse and exciting music programme which at the same time has a wide reach. AMP teaches practical music, ensembleship, music literacy, music theory, general music knowledge and sound technology to provide learners with a solid foundation and formal certificates that enable access to further music study and career pathways. AMP's interconnected model runs from primary school through to post-school level (see http://www.accessmusic.org.za/about/ for more details). AMP is developing high quality and unique pedagogical materials inclusive of content relevant to all young South Africans which is also relevant to the demands and standards of current professional industry practice. Not only is AMP working towards provision of music education for all of Grahamstown's historically disadvantaged schools but its professional network extends nation-wide – AMP is developing both an operational model for serving disadvantaged schools as well as resources towards empowering in-service teachers.
The achievements
AMP's centre • Formalised fruitful partnerships with 8 secondary schools; provided music teaching that has benefited over 60 secondary school children to date • Produced graduates from our programme with formal certificates through recognised music examination bodies at matric/university entrance level • Established permanent marimba bands at 6 primary schools, having benefitted over 300 learners to date • Conducted music outreach projects for 2 secondary schools, (benefitting over 40 learners) and 2 primary schools (benefitting over 200 learners) • Established a thriving and well-functioning centre with efficient internal systems, community support and strong networks; • Secured a central physical premises, in partnership with the Joza Youth Hub • Acquired significant assets: 3 converted shipping containers (teaching spaces), a 14-seater Quantum and trailer (for transporting learners and equipment) and teaching resources including 100+ musical instruments, sound equipment, books, etc. Awards • AMP management staff received a special award from the Rotary Club of Grahamstown Sunset in recognition of their service to the youth of Makhanda (2018) • AMP won the Rhodes University Community Partner of the Year Award in recognition of AMP's impact in the Makhanda community (2015) • BASA (Business Arts South Africa) Award for AMP's CSI partnership with African Musical Instruments (AMI) (2015) • AMP learners have won numerous awards at competitions and eisteddfods – full details available on request. Community • AMP directed the National Arts Festival's Annual Street Parade, in 2012, 2013, 2014, 2015 and 2017, playing a major part in bringing the National Arts Festival closer to all of Makhanda's citizens • AMP's has collaborated with the National Arts Festival in producing Masicule, an annual concert celebrating Makhanda's local vocalists and choirs, from 2014-2019 Performances • AMP learners perform on a regular basis, and have won numerous awards and prizes. Highlights include: • Official Opening of the Village Green at the National Arts Festival in 2015, 2017 and 2018 • National Marimba Festival in 2016 – winning 2 gold trophies at this national competition Collaborations and exchanges • Hosted a cultural and musical exchange with Afro-Brazilian performing group from Madagascar, Bloco Malagasy (2015) • Collaborated with French company Association Faux Défi Défaut Fou and Cape-Town-based organisation Little Giants for the show Big Time on the Main Programme at the National Arts Festival (2012) AMP Camps • Held 8 annual music camps since 2012 for development of ensemble skills and general musicianship AMP's Music Tours • Tour to Cape Town (2015) - Performance for private party • Tour to Johannesburg (2016) – Participation in National Marimba Festival